For the last 3 years, Huawei has announced its next generation SoC at the IFA technology show here in Berlin. In every occasion, the company promotes its hardware, using the latest process technologies, the latest core designs, and its latest connectivity options. The flagship Kirin processor it announces ends up in every major Huawei and Honor smartphone for the next year, and the Kirin 990 family announced today is no different. With the Mate 30 launch happening on September 19th, Huawei lifted the lid on its new flagship chipset, with a couple of twists.
Dual SoC Approach: Kirin 990 (4G) and Kirin 990 5G
As we move into the era of 5G, we have a bifurcated market. On one side we have regions that are not ready for 5G, and consumers there do not want to pay the extra $$ or power or potential compromises in a device in order to support 5G. Other regions are riding the 5G wave, and are on the leading edge, and so might pay the premium. Rather than offer a single solution to both markets, Huawei is for the first time splitting its strategy, with two versions of the Kirin 990.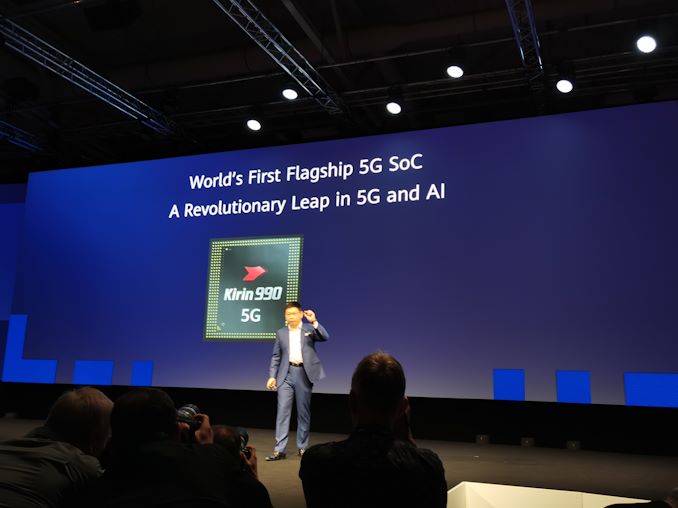 These versions will officially be known as the Kirin 990 and the Kirin 990 5G. The (4G) I've put here is simply to add a differentiator to tell them apart. The two Kirin chipsets are, and a standard base level, pretty much the same. Same core configuration, same camera support, same memory, same storage. However, in a few key areas beyond the modem, there are differences, such as NPU performance and core frequencies. We'll go into these in a bit. But it is worth highlighting how the Kirin 990 5G version is a vision of the future.
The Kirin 990 5G: SoC of the Future
We bang on consistently about 5G, because that is where a lot of mobile infrastructure and investment is going. Back at Mobile World Congress in February, we covered every company that had announced its own discrete 5G modem – a chip that was added to a device in order to enable 5G. This typically meant that we had a standard processing chip with 4G, and then an extra 5G support chip on top. Ultimately to get the best performance, the 5G chip should be integrated on the same silicon, enabling better efficiency in 5G mode in exchange for die area and design complexity.
True to form, Huawei (and its design arm, HiSilicon), are the first to do it for the smartphone market.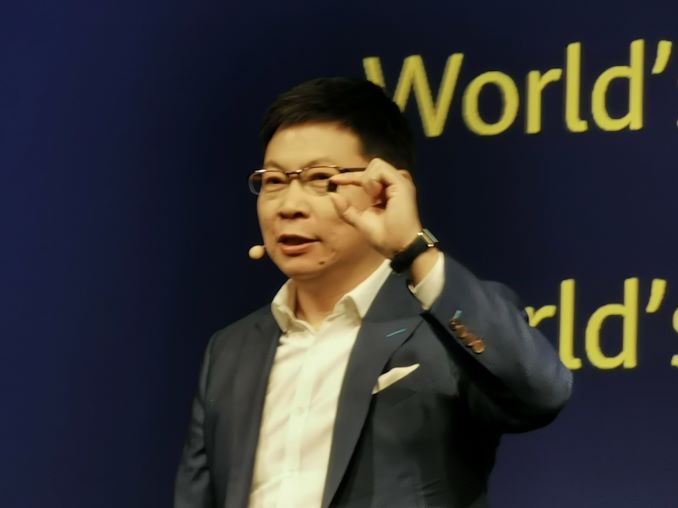 The Kirin 990 5G is a true unified design, supporting Sub-6 GHz 5G networks on both SA and NSA architectures. In order to keep the die size in check, Huawei is using TSMC's latest 7+ manufacturing process with EUV, which helps enable a smaller die size for the sorts of devices this chip will be going into.
To date, neither Qualcomm, nor Samsung, (nor Apple), have a unified flagship chip design that is near commercialization. We do expect them to release the hardware as they generationally update, but as of today, Huawei is the first to announce it.
So despite having a single smartphone SoC that can do 4G and 5G without additional hardware, Huawei still believed it prudent to produce a separate chip without 5G in it, especially as 5G adoption is still going on globally, and still a few years out for some markets in which Huawei competes. It also helps Huawei split some of its features, saving the best for the 5G hardware.
The Kirin 990 Series: Details
As mentioned, one of the key elements to the Kirin 990 5G is its use of TSMC's 7FF+ with EUV, which enables the chip to have a small(er) die size. We are told the chip is over 100mm2, which is up from 74.13 mm2 on the Kirin 980 (TSMC 7nm) and 96.72 mm2 on the Kirin 970 (TSMC 10nm), possibly making it Huawei's largest smartphone SoC to date. This is compared to the Kirin 990 4G version, which is around ~90 mm2, but is built on the same 7nm process as the Kirin 980, making it a little bigger. Transistor counts for the two chips put the 990 5G at 10.3 billion, while the 990 4G is ~8 billion.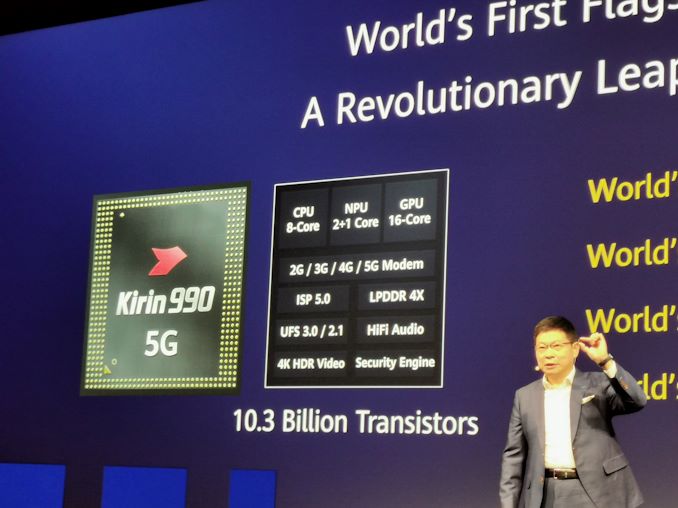 CPU
The core configuration on both SoCs is the same – two high frequency A76  cores, two medium frequency A76 cores, and four more efficient A55 cores. These are split into their own power and frequency domains, allowing better flexibility based on workload. However, the 990 5G and 990 4G will both have slightly different frequencies, based on the differences between the 7 and 7+ processes.
Huawei Kirin 990 Family
AnandTech
Kirin 990