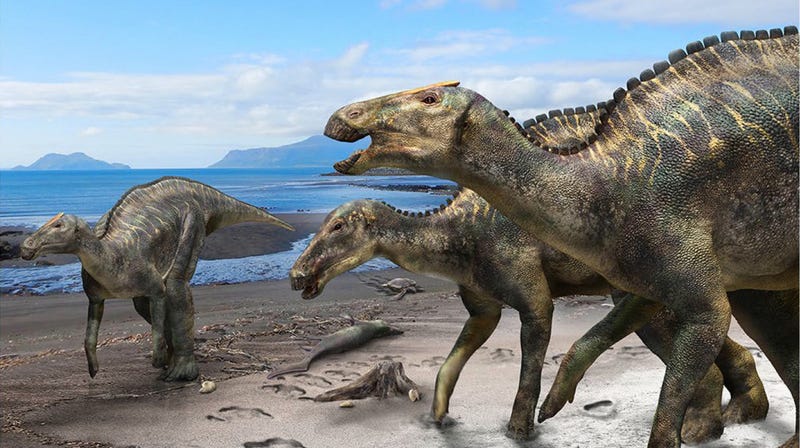 Introducing Kamuysaurus japonicus—an entirely new genus and species of hadrosaur from Japan. The location of its fossilized remains suggests these majestic herbivores browsed ancient shorelines, expanding our knowledge of this wildly successful group of dinosaurs.

New research published today in Scientific Reports describes Kamuysaurus japonicus, a species of hadrosaur, or duck-billed dinosaur, pulled from Japan's Hakobuchi Formation. The nearly complete fossilized skeleton was found in 72-million-year-old marine deposits, suggesting the creature foraged along the shoreline, a rarity for hadrosaurs.
The bones of Kamuysaurus japonicus were found alongside the fossilized remains of sea turtles and mosasaurs (an extinct aquatic reptile that looked much like a modern whale), further reinforcing that this dinosaur live by the sea.
"This is a beautiful new dinosaur skeleton and probably one of the most important dinosaurs ever found in Japan," Steve Brusatte, a University of Edinburgh paleontologist not involved with the study, told Gizmodo in an email.
Hadrosaurs were a super successful group of dinosaurs that lived during the Late Cretaceous period (100 million to 66 million years ago), with their fossilized bones having been recovered in Eurasia, North and South America, and Antarctica. These herbivores could walk on either four or two legs, allowing them to graze along the ground or reach tall branches.
Back in 2013, the partial tail of this specimen was discovered at the Hakobuchi Formation, leading to more extensive excavations at the site. Scientists managed to uncover a nearly complete skeleton, the bones of which were carefully analyzed by Hokkaido University Museum paleontologist Yoshitsugu Kobayashi a