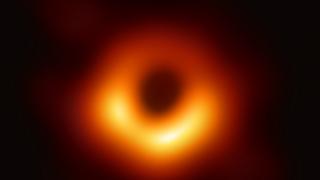 The team that took the first ever image of a black hole has announced plans to capture "razor sharp" full colour video of the one at the centre of our galaxy.
Satellites would be launched to supplement the existing network of eight telescopes to make this movie.
The researchers say the upgraded network will be able to see the supermassive black hole consuming the material around it.
The team has been awarded the Breakthrough Award for Physics.
Prof Heino Falcke, of Radboud University in the Netherlands, who proposed the idea of the so-called Event Horizon Telescope (EHT), told BBC News that the next step was to see a black hole in action.
"Just like planets, a black hole rotates. And because of its incredibly strong gravity, it distorts space and time around it. And so seeing this very weird effect of space itself being rotated is one of the holy grails of astrophysics."